Under the hood is the 7.0-liter LS7 out of a C6 Corvette Z06 with fortified pistons and titanium connecting rods that help the muscle car rev to 7,000 rpm and produce 505 hp. Pirelli supplied some P Zero Trofeo Rs that are essentially slicks with a few grooves here and there. They were so sticky that Chevy struggled with keeping the tires from slipping around the aluminum-forged rims during testing.
Full article: https://goo.gl/fnwk99
Why Dwayne "The Rock" Johnson is thanking Ford Motor employees
Dwayne "The Rock" Johnson has posted on Facebook that he just wrapped up a commercial shoot in the Detroit area. The action star has a special message for Ford Motor "blue collar" employees.
Full article: https://goo.gl/UhDuHL
Classic Car 'Deal Auto Wrecking' Yard Burns Down Near Richmond
Crews raced to put out a fire on Friday burning at Deal Auto Wrecking near Richmond, where black smoke was seen billowing by commuters across the East Bay and a shelter-in-place was ordered for the surrounding area.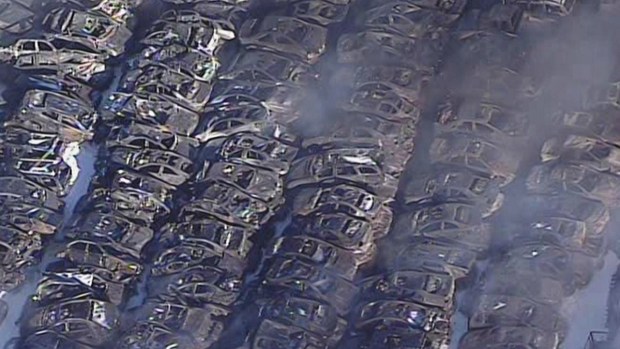 Full article: https://goo.gl/HWqS41
Shell develops new premium fuel for the engines of old cars
Modern gasolines have become a recurring headache for classic car owners. Low octane and unleaded fuel have presented challenges for years, but federally-mandated 10 percent ethanol content has caused new problems with compatibility in vintage fuel-system components.
Full article: https://goo.gl/E6h1e3
Why the 2016 Ram 1500 is the ultimate hauling machine
RAM manufactures a line of light to mid-weight commercial vehicles. The Dodge lineup of vehicles were framed in order to bring in a range of exclusive car-based vehicles that can perform like a heavy duty truck. Trucks that were tough in performance and delightful to look and feel were the target products of this lineup of Dodge RAM trucks.
Full article: https://goo.gl/HZf4yn
The post Smokin' deal alert: You can buy a brand-new 2015 Chevy Camaro Z/28 for $20,000 off sticker appeared first on Muscle Car Fan.